Launder with Love
Over the next couple of weeks I'll be publishing various articles on how you can take care of your clothes sustainably so they last a lifetime!  Read on to see how I started my journey.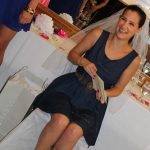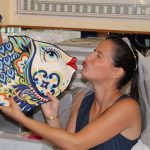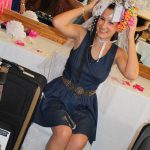 ---
Part I, Introduction
This is me at my bridal shower in 2012.  I'm happy to say I still have this dress and it's still fantastic.  It's made of lightweight denim so I can dress it up like I did that day, or I can dress it down with sneakers, which I do a lot!  I still have the chain and beaded belt, which was my moms so it already had decades of love…and I still have the fish platter.  I had to make a conscious change, acknowledge that I want these things in my life now, and in the future to share with my nieces.   In order to make them last, I have to care for my clothes now and in a more sustainable way.  This is how I started.
One of the lessons that stands out from my decade-plus working in fashion design is less is more. The best editors make the best designers.  You have to be able to look at your designs and intentionally strip it down to its simplest form.  I have found the same idea applies to many aspects of life.  Most important for me now is how to apply less is more to sustainable living.
Buy less.
Choose well.
Love what you have.
Practicing less has left me with more time for enjoying life.  Spending time with friends and family, catching up on books or binge-worthy shows, and even writing articles about clothing care for a dope online magazine!
In 2019 I decided to stop buying clothes.  Off-brand for a fashion designer, I know.  I spent months researching sustainability in fashion to start a children's clothing brand focused on reuse (eddys of course).  It became clear that in order to call for change in others, I had to make changes in my own life first.
Having a closet full of clothes paired with that nagging feeling of "I have nothing to wear" made me want to start my journey with clothing.  I took stock of what I had and it was clear that I did not need more, I needed to engage my editing superpowers and learn to care for the clothes I have.In order t
To care for your clothes sustainably starts by shifting laundry habits.  My habits have changed a lot in the last year.  I try to launder only when needed which is usually after multiple wears…except gym clothes and panties for obvious reasons.  The simplest tip I can offer is to pretreat always, spot clean often, and wash only when needed.  This habit will go a long way in extending the life of your clothes between washes and over a lifetime.
I recently conducted a poll to get an idea of laundry habits and the most common stains.  I was happy to find that more than half of those surveyed pretreat stains before laundering.  If you are in the other 40% who do not pretreat…you need to start.  This simple task will reduce the number of times you need to wash your clothes, which is the harshest thing we do, as well as saving dollars spent on soap, energy, and precious water.
A whopping majority of stains from those polled come from pizza.  That may be a skewed statistic since I'm in NYC because we have really good pizza.  Tied for second place are chocolate and wine, I'm guilty of these!  Rounding out third place is coffee stains.  All of which will stain permanently if not treated properly.
So you can give up pizza and wine…or sign up below to stay in the loop.  Over the next couple of weeks I'll be sharing laundry tips that are gentle on your clothes and on the environment.  Learn to care for your clothes sustainably, plus some background on the substances we use and why they work so well!
#consistencychallenge: July 2020
---
eddys brand celebrates family and the spirit of connection and togetherness by creating essential garments for babies and toddlers, future big brothers and sisters, that can be passed down and are made to last through multiple rounds of grass stains, first teeth, and lots and lots of smiles.